HOHUNET S5624 Multi-Gigabit POE++ product simultaneously supports 10G Base-T and 90W power supply per port in the industry. Therefore,  our most crucial verification is verifying its performance with the highest performance device in real networking.
As the highest performance AP in the industry, Huawei Air Engine8760 is our preferred choice. Recently, HOHUNET completed the joint test with Air Engine8760.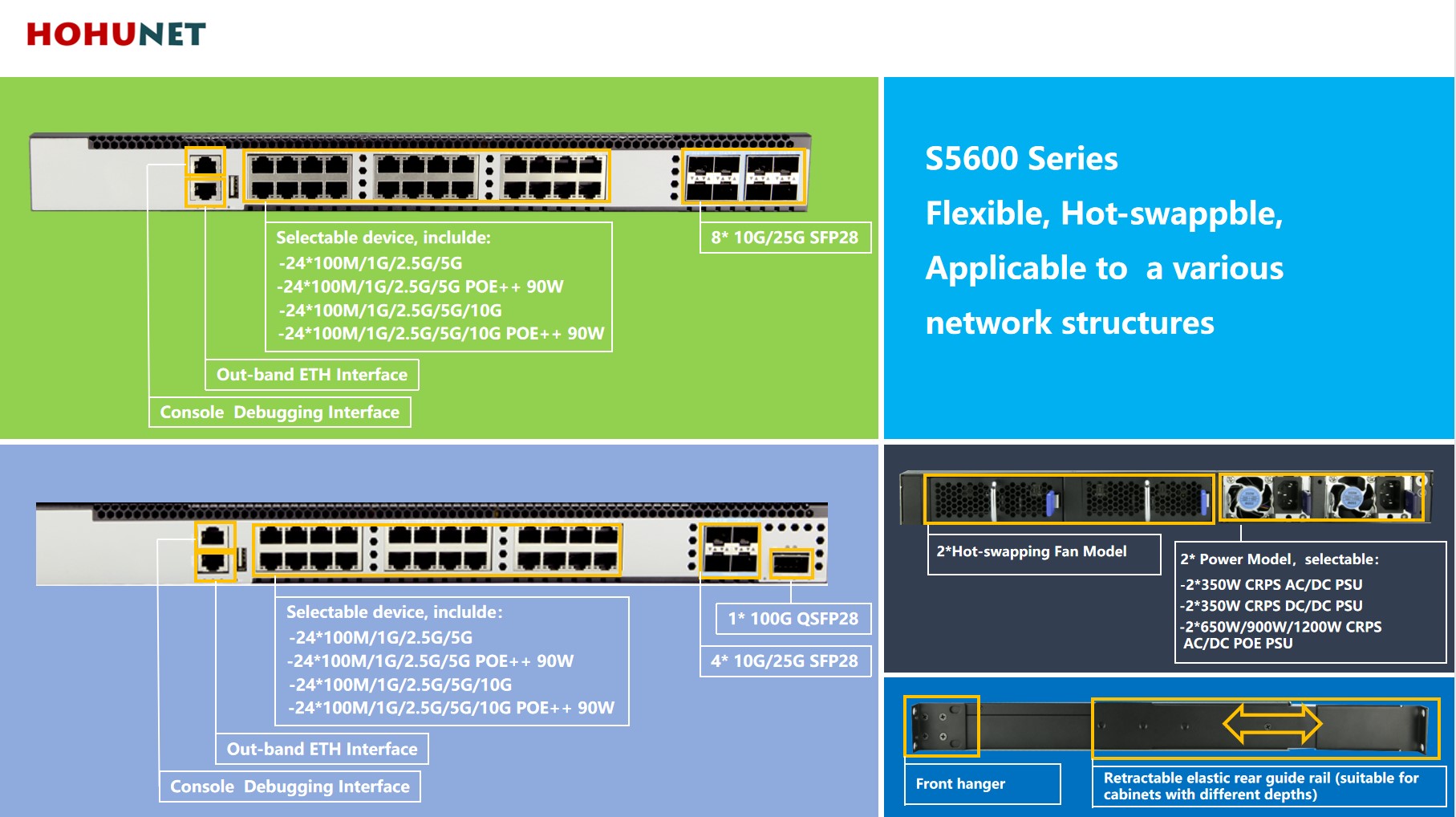 Support POE++ 90W to supply power for Air Engine 8760 in extreme working mode
The S5624 Switch supports a maximum of 90W POE power output through a single port. Therefore, the S5624 Switch can provide enough power for Air Engine 8760 wireless AP products.
Provide 10G Base-T ports
The S5624 supports a variety of multi-gigabit transmission rates based on twisted-pair cables. For example, the transmission rate is 5Gbps for 100 m based on the CAT5E network cable and 10Gbps for 100 m based on the CAT6A network cable. Furthermore, considering that Air Engine8760 supports 10G Base-T Uplink ports, the Air Engine8760 uplink can be no bottleneck by connecting with S5624 series switches.
Supports flexible power supply architecture
The POE PSU of the S5624 Switch adopts the CRPS modular design, and the single PSU power module can be selectable as per various specifications. For example:  600W, 900W, 1200W, and 2000W. Meanwhile, the S5624 supports two power supplies in parallel, which means that the maximum POE power of a single power can support 4000W. The powerful and flexible power architecture can easily support large-scale POE power consumption.
Supports complete protocol features
As fully functional Layer3 switches, the S5624 series supports rich protocol features and can easily cover the applicable requirements of SMB networks, enterprise networks, campus networks, data center networks, and metropolitan area networks.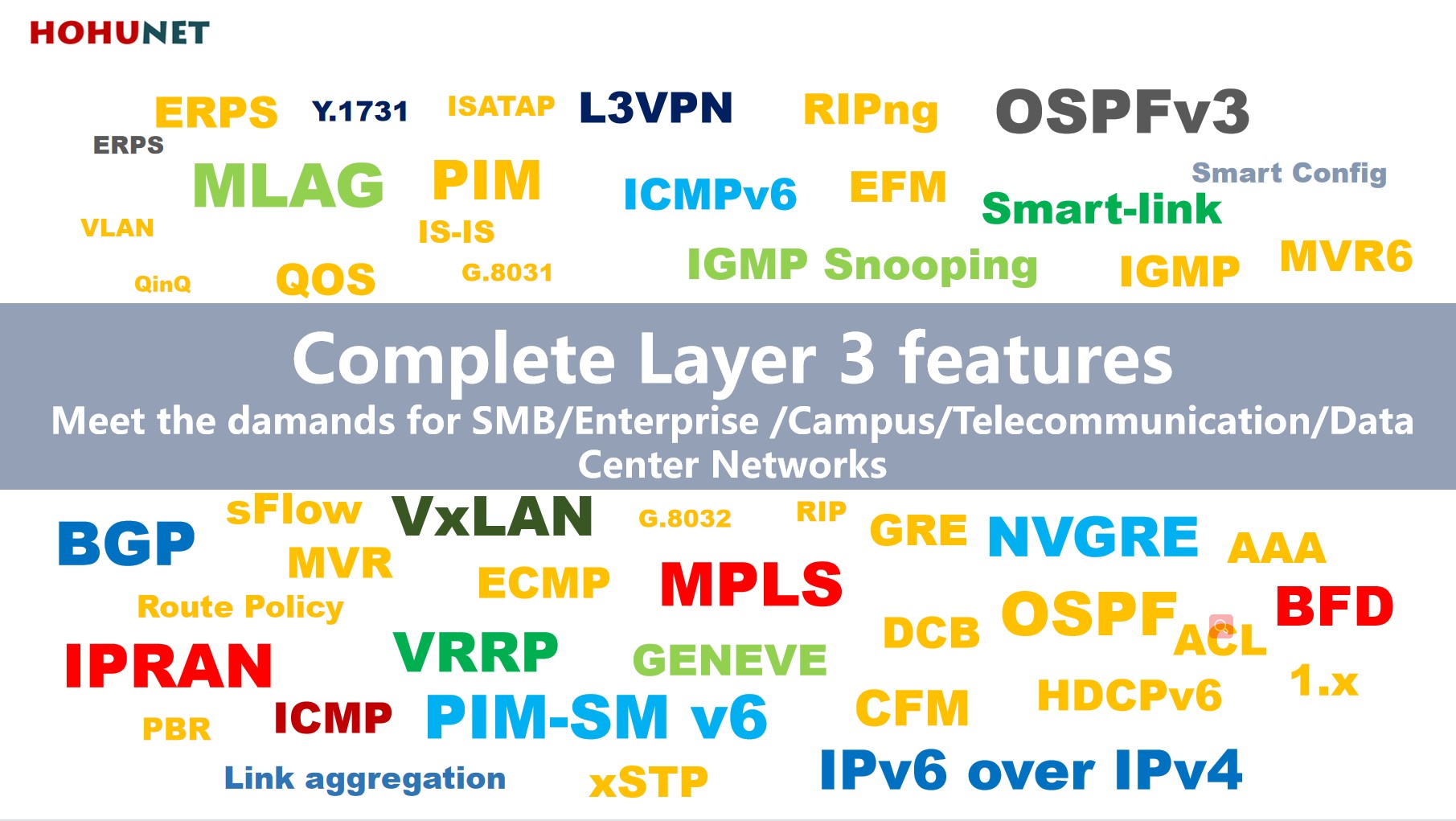 Supports ULD remote deployment
In some extreme scenarios, the distance between the POE switch and Air Engine 8760 exceeds 100 meters. In addition, air Engine 8760 supports 10G SFP+ UPLINK, while the S5624 switch supports hybrid fiber cable ULD deployment mode. As a result, it can maintain more than 70W POE power at a distance of 300 meters while providing a 10G Base-R network speed of 10Gbps.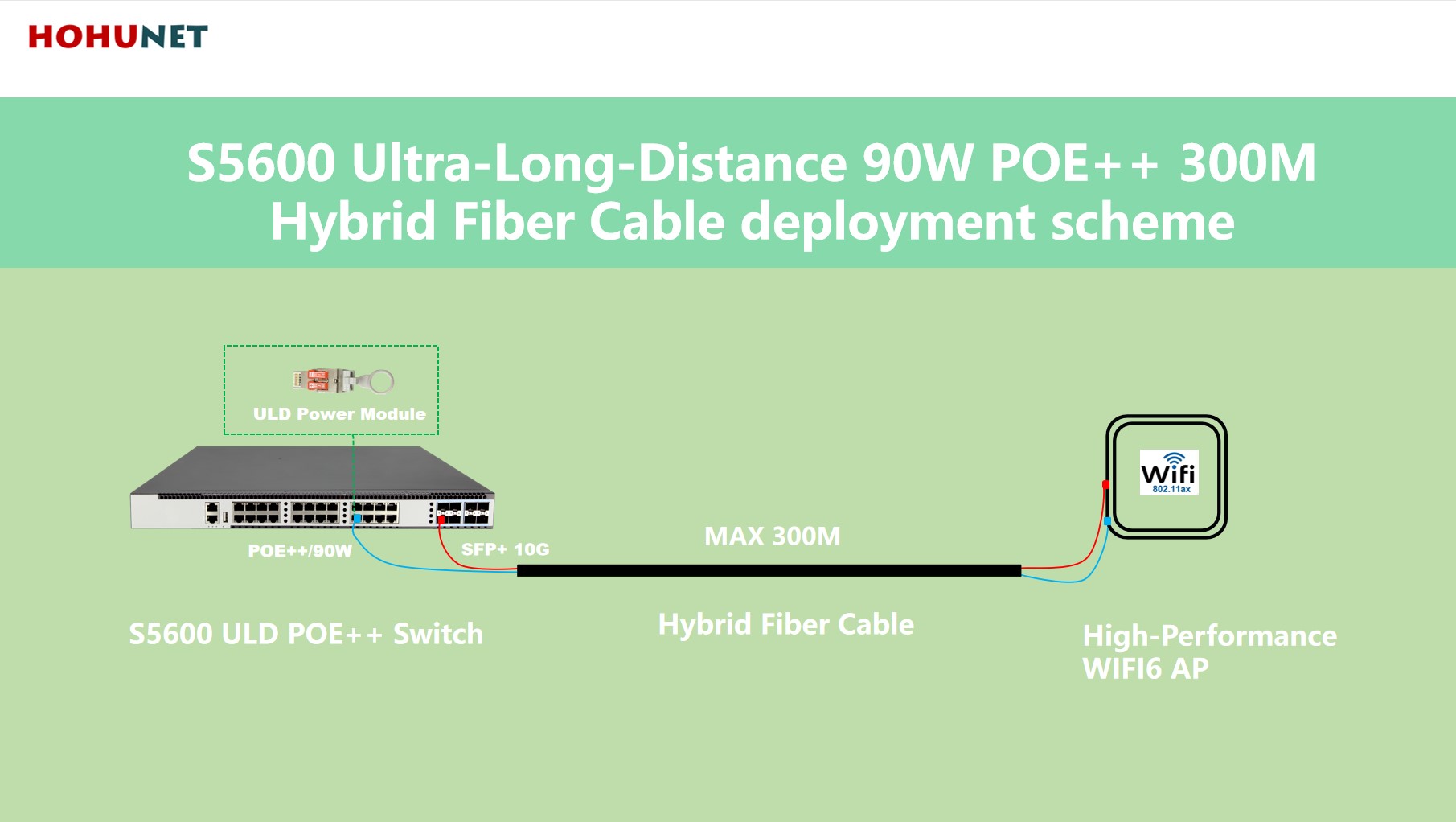 Huawei Air Engine 8760 introduction
AirEngine 8760-X1-PRO — Huawei's flagship Wi-Fi 6 (802.11ax) indoor Access Point (AP) — features 16 Smart Antennas and is equipped to handle high-density and bandwidth-hungry scenarios.

Unique to Huawei and derived from innovations made in 5G technologies, the 16 built-in, dual-band Smart Antennas achieve an astonishing device rate of up to 10.75 Gbit/s, delivering a fiber-like wireless experience. Smart Antennas also effectively improve signal gain, with signals following users to achieve complete coverage with zero blind spots.
Equipped with Software-Defined Radios (SDRs) by default, and with the ability to flexibly switch between three modes — dual-radio, triple-radio, and dual-radio + one scanning radio — AirEngine 8760-X1-PRO is designed for challenging high-density environments where interference is heavy. Such strengths make the AP a good fit for enterprise office, government, and higher education use, plus primary and secondary education.