HOHUNET 2.5G and 10G to Desktop Network Solutions hit the E-sport Club Needs
Let's Start Work
Together
Please feel free to contact us. We will get back to you with 1-2 business days. 
Development of the E-Sports industry
In 1998, the first batch of E-Sports games entered China, and Chinese E-Sports clubs began to sprout. In 2014, after more than a decade of exploration and development, China E-sports Club Alliance was established, and third-party e-sports also entered a period of vigorous development. In 2018, more professional leagues were established, the e-sports industry continued to be standardized, and national professional standards such as e-sports player and e-sports sparring instructor were successively issued. In 2020, the market capacity of e-sports industry has exceeded 100 billion RMB.

In the ecological chain of E-Sports industry, E-Sports Bars/Hotels are a new form of upgrading and iterating from the traditional Internet cafe business to the stadium construction direction of the E-Sports. It is very different from traditional Internet cafes. In order to meet the needs of professional players for large-scale games or participating in international events, in addition to higher standard hardware, some of them are equipped with professional e-sports stage, huge LED screen, AI commentary room, which create a very competitive atmosphere.
What are the E-Sports network want?
If atmosphere is the value-added service provided to meet customer's peak experience, then a network construction is the basis of all services. For the E-Sports Bar/Hotels, Enthusiast level hardware, the high speed networks are required and not fault tolerant–zero pack loss, undetected Latency and Jitter, which are the core competitiveness to retain customers.

HOHUNET provides three end-to-end network solutions, which has different competitiveness for the E-sports Bars/Hotels who have a different budget.
S7606X-2Z 40G/100G Series Optical switch and S5048-4XQ 2.5g Multi Gigabit switch, using the data center level chip-set, whose packet buffer is 9M, ensuring the characteristics of low latency. The product provides a unified software platform to facilitate customers maintenance.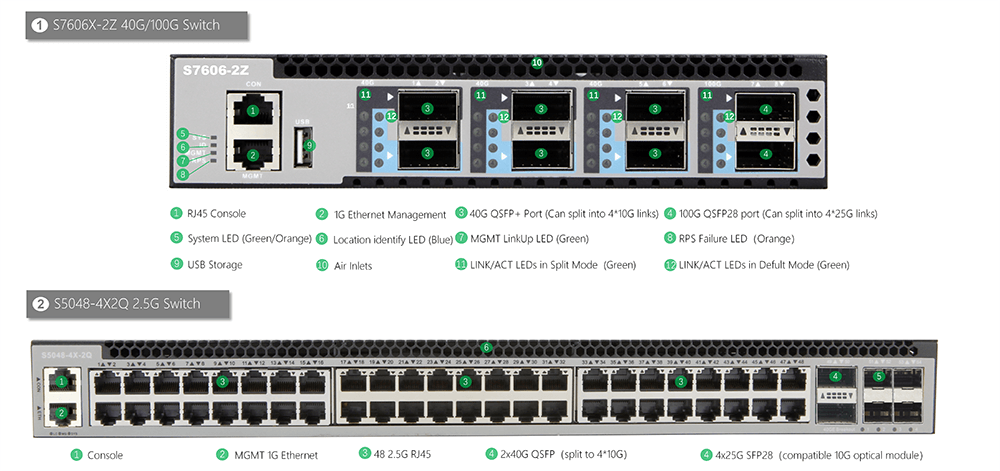 The S7606X-2Z Series Optical Switch is available in Standard(SI) and Enhanced(EI) models. Both of them support physical hot backup in 1U space. However, S7606X-2Z-SI only provides fixed power and cooling, and only one power supply.
-S7606X-2Z-EI:6x40G QSFP+ ports, 2x100G QSFP28 ports, Hot-swap CRPS and Smart Fan Module, Half-width, support two physical hot-backup and dual power redundant in 1U space.
-S7606X-2Z-SI:6x40G QSFP+ ports, 2x100G QSFP28 ports, fix power and smart fans, half-width design support two physical hot-backup in 1U space.
Cost-effective network -- 50G cascade architecture solution
Customers with limited budgets, who want to build high-performance networks, they can adopt a 50G cascading architecture with bandwidth much higher than ordinary 10GB.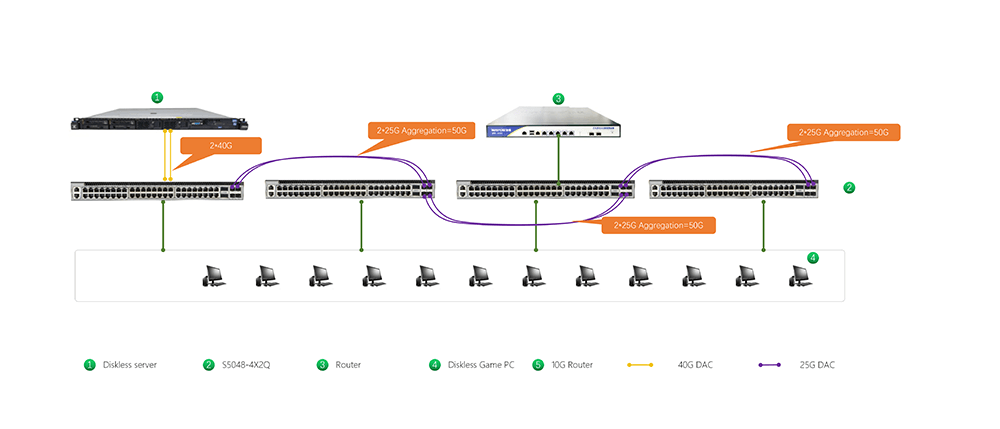 Textbook networking - 40 GB star network architecture
Scientific 40G network TOP, devices are cascaded with higher 40G links, and also can be seamlessly upgraded to 100G servers.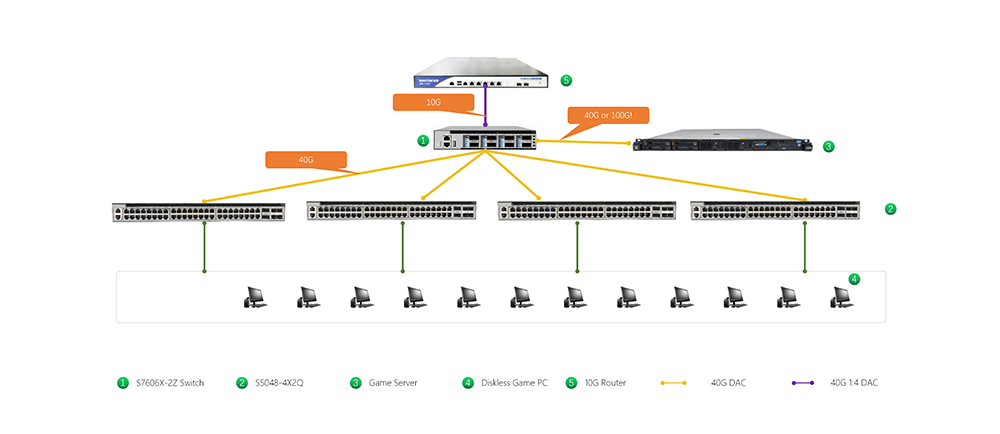 Ultimate Experience network - 10G fiber to desktop
10G speed to the desktop PC, which is giving a professional player the ultimate high performance experience. It also supports 100G link connection to the servers.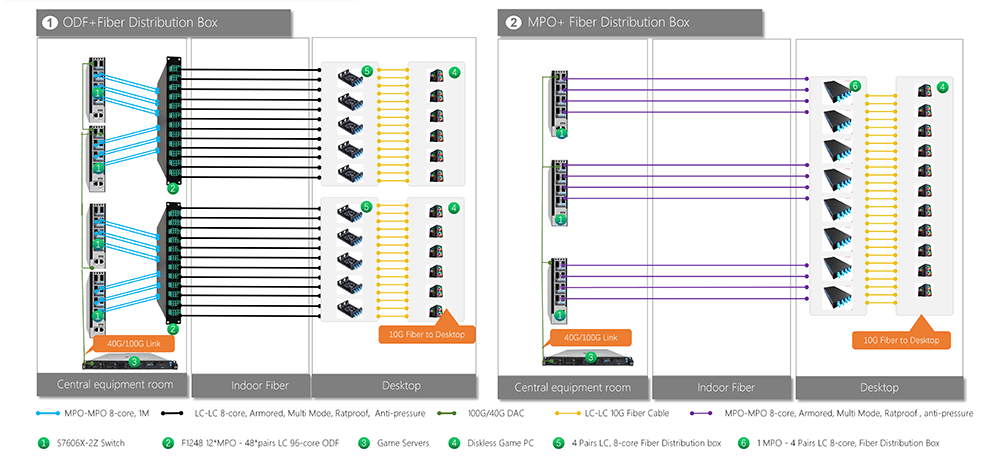 All the switches mentioned in the above have passed the industry's most authoritative IXIA RFC2544 performance certification test, with zero packet loss at full load.