HOHUNET first released the 48 ports 2.5G multi-gigabit Ethernet Switch in the industry is proved very far-sighted. The large-scale application of 2.5G network adapter drives the demand for 2.5G switches, which appeared to blow out. With good product quality, HOHUNET 2.5G multi-gigabit Ethernet switch shipments in the past year ranked first in the industry.
HOHUNET's product line already has 8 ports of 2.5G POE++/None-POE versions, and 48 ports of 2.5G products as well.
Recently, HOHUNET is going to release a series of 24 ports 2.5G multi-gigabit switches to fully complement our whole  2.5G product line.
These newcomers offer four selectable forms, two of POE++ and the other is two of non-POE.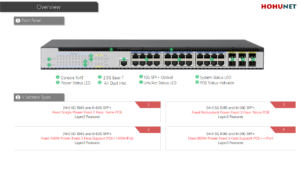 More application scenarios for 2.5G multi-gigabit and 2.5G POE++ switches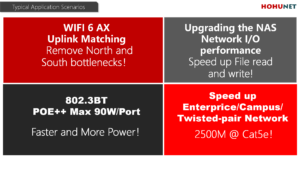 Under the full load test, the new member performs well, with zero packet loss at full load for 72 hours.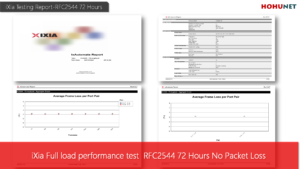 Related Links: https://hohunet.com/product-category/2-5g-multi-gigabit-switches/