Description
S7606X-2Z-EI 40G Optical Switch, which is designed on a domestic high-performance Switch Chip, competently meets the requirements of Metro, Enterprise, Data Center, and Hyperconverged infrastructure(HCI) networks.
S7606X-2Z:6x40G QSFP+ ports, 2x100G QSFP28 ports, Hot-swap CRPS and Smart Fan Module, Half-width, support two physical hot-backup in 1U space.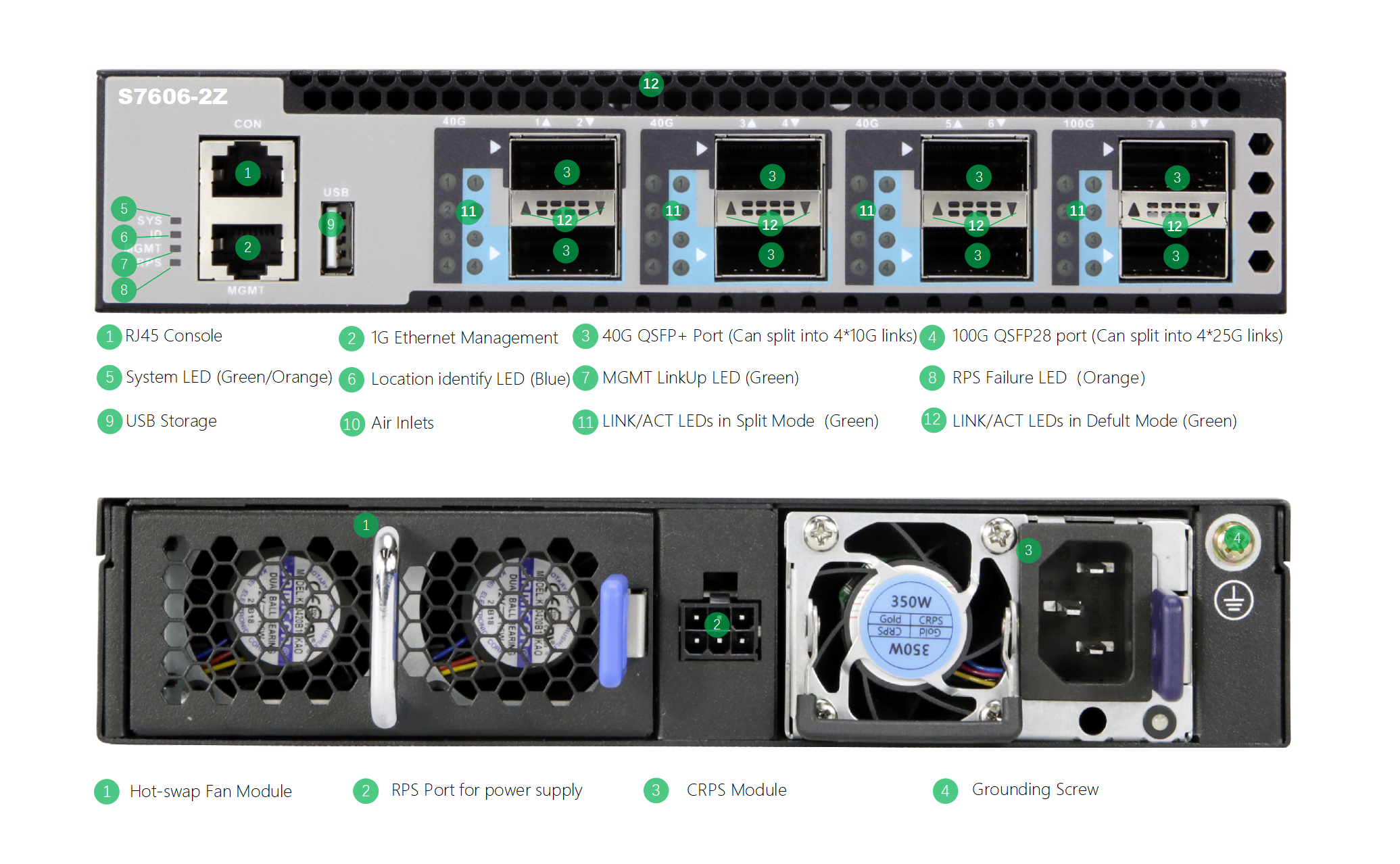 The S7606X-2Z 40G Optical Switch is adopts a unique product design, which can realize physical dual-machine deployment in 1U space and supports rich dual-machine redundant protocols to achieve high reliability of physical TOP and protocols.
Unique cross-switch power redundancy ensures network availability even when a single node power subsystem fails.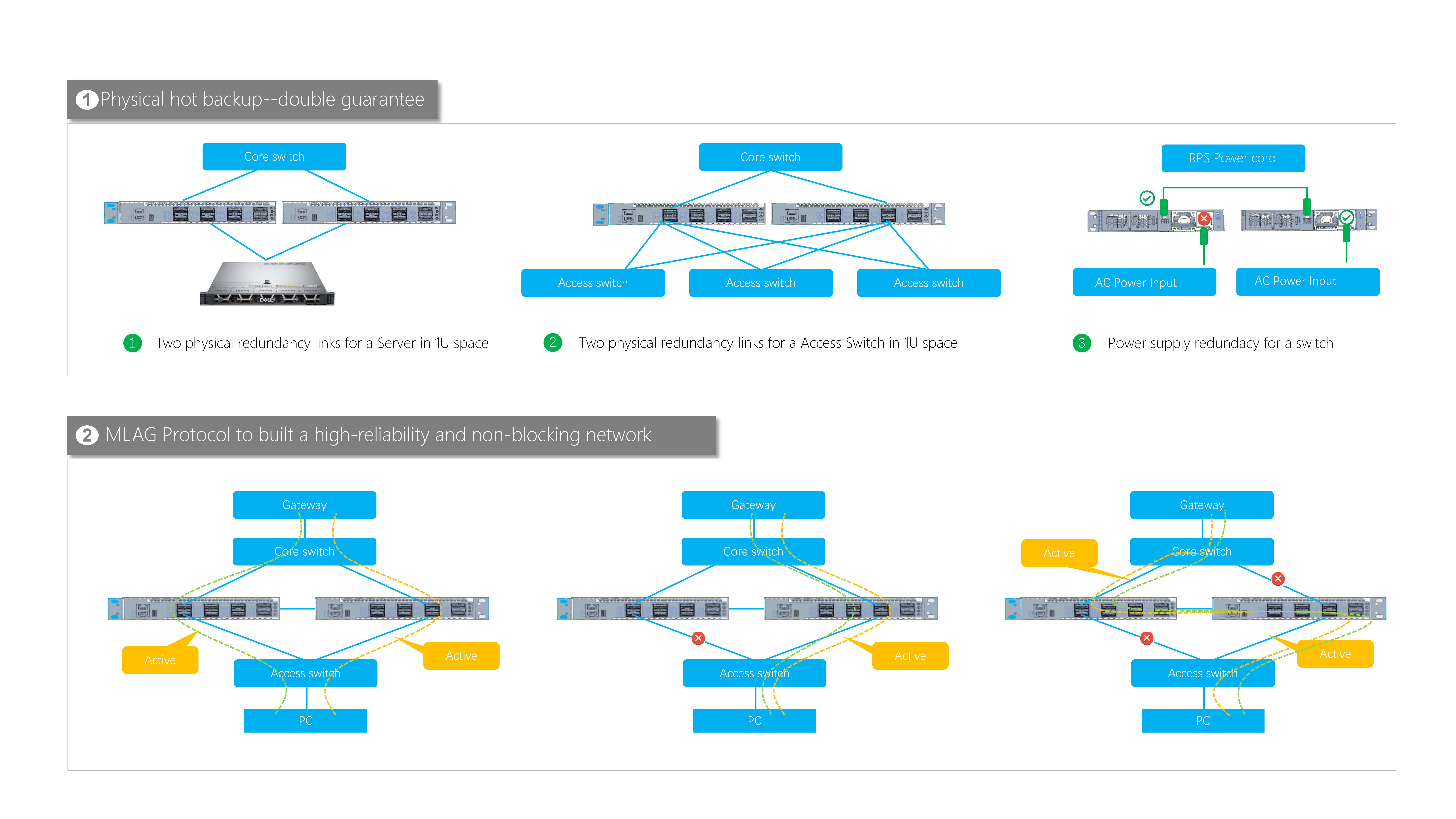 In default, the S7606X-2Z has 6 40G and 2 100G ports, 8 physical port in total. But, the port type are alterable, which means a 40G or a 100G port can be split into quadruple 10G or 25G links. Whether 40G, 100G, 10G or 25G have a LED indicator in the front panel to clearly display the link status separately.
For easy operation, the S7606X-2Z have four built-in configuration templates to cover requirements for the number of ports/links. These are 6*40G + 2*100G; 24*10G + 2*100G; 24*10G + 8*25G and 32*10G.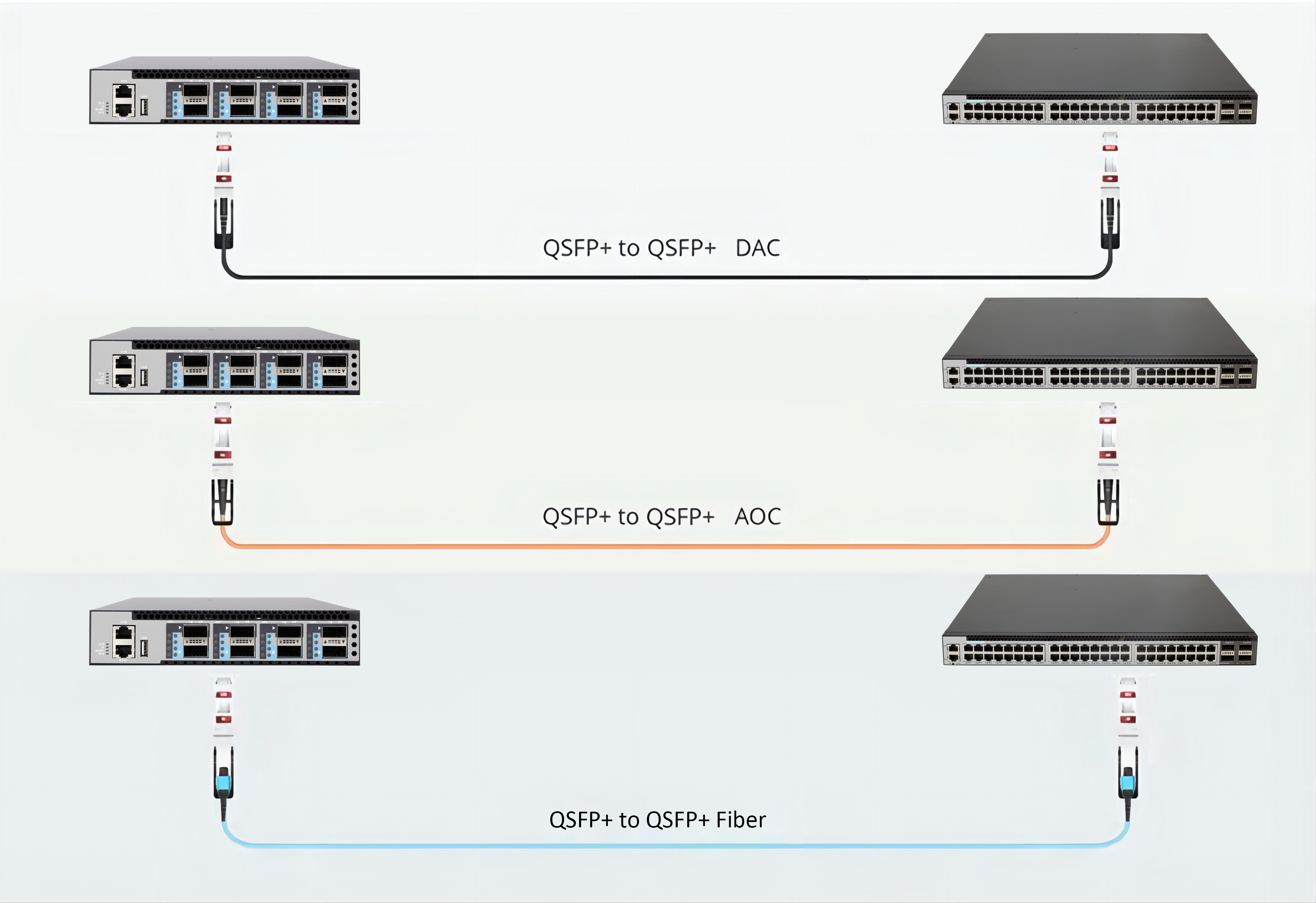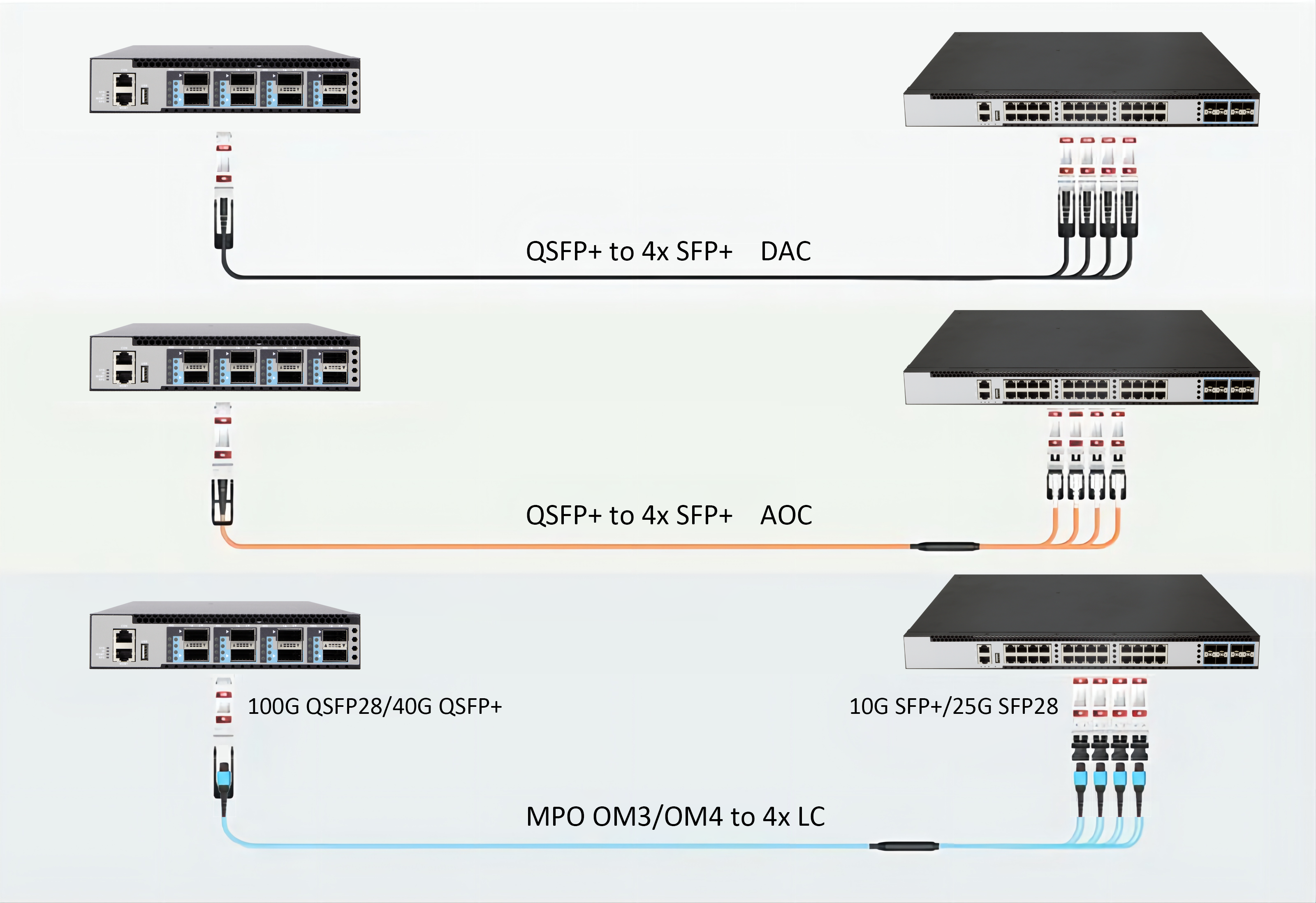 S7606X-2Z support for a variety deployment in 1U space. These are single switch deployment、wall-mount deployment and two switch combine deployment which is efficiently space using and good way to achieve hot-backup.

Innovative to Integrate SDVoE API Server

SDVoE (Software Defined Video over Ethernet) technology offers high performance, low latency, and reliability for transmitting 4K/8K or higher resolution images, ensuring an excellent visual experience in medical, enterprise, education and other industries. The built-in SDVoE API Server simplifies network architecture and reduces project costs.
System Design for Green and Energy Saving
Intelligent FAN adjustment and real-time power consumption monitoring technology are provided for the cost of maintenance redundancy and help to build a green and energy saving networks.
Customized Profile for Different Deployment Scenarios
The Flexible Table Management (FTM) technology offers multiple table size configuration profiles as optimized choices for different network scenarios.
Intelligent Ethernet OAM: completed network fault management and performance guaranty
With the IEEE802.1ag and ITU-T Y.1731 end-to-end OAM, Ethernet service providers can monitor the services, survey the end-to end performance and ensure the service quality match the agreement.
The fault management technique includes CCM, LTM and LBM. Performance targets include measure for latency and jitter.
S7606X-2Z support remote management,network monitoring,network fault indication,remote loopback and MIB parameter retrieval according to the standard 802.3ah EFM.
Data Center Features
S7606X-2Z supports leading edge Data Center features: Priority Flow Control (PFC), explicit Congestion Notification (ECN) and Data Center TCP, etc.
Support MLAG (Multi-Chassis Link Aggregation) to aggregate links across different devices. MLAG can build an Active-Active system to improve the reliability of the network links from single board grade to device grade. MLAG use a peer link between to devices to aggregate two devices and make them as one device logically. Ports of two different devices join the aggregate ports together and all port can transmit the data traffic. MLAG need to management the device respectively, but the configurations are easier than stacking, reboot is NOT required after MLAG is configured. Forwarding and configuring are processing on local device, in normal condition the traffic do NOT transmit trough the peer link, the bandwidth of peer link is not the bottleneck of the network and the latency is low.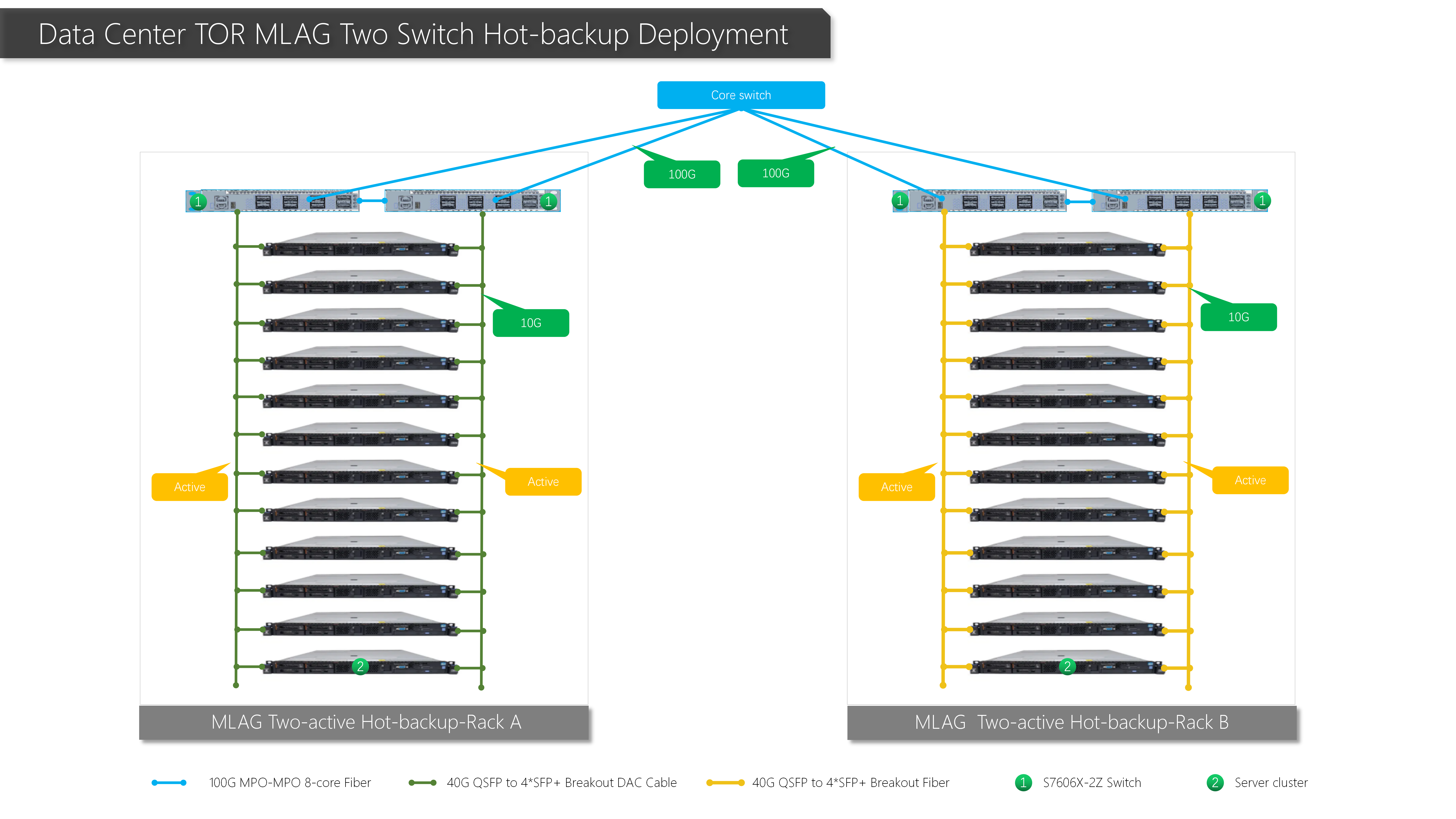 Support overlay technology (include NVGRE/VXLAN/GENEVE etc.). Overlay can make layer2 packets across the layer3 networks by using NVGRE/VXLAN/GENEVE header to encapsulate the entire Ethernet packets. Overlay resolves the problem of MAC table size limitation in traditional layer2 networks, resolves the problem of VLAN id count limitation, and resolves the problem network dynamic adjustment which cannot achieve by VLAN/VPN. Use VXLAN for example, 24 bits VNI identifier can support at most 16777215 logic networks, layer2 networks built by VXLAN can keep the same IP/MAC etc. when move the virtue machine.
MLAG and overlay features are also good candidates for switches in data center network.
S7606X-2Z supports RPC-API for SDN (Software Defined Network). SDN is a new architecture of network which can substantially simplify the management and maintenance by separating the control plane and data plane of the network.
High Reliability
S7606X-2Z support hot-swap CRPS, and Real-time environment monitoring technology to detect the chipset temperature, status of fan and power, etc.
Support LACP / ECMP / VRRP / VARP / STP/RSTP/MSTP / Smart Link / BFD / ERPS / G.8031 / G.8032 / Load-Balancing, etc. to protect the network traffic all-around effectively.
Patented technology 'Sysmon' for CPU status monitoring can take action when system is error.
Outstanding QoS Control
S7606X-2Z provides 13 hardware queues per-port (8 unicast queues, 4 multicast queues, and 1 monitor queue).Support multi-stage scheduling technology such as WDRR (Weighted Deficit Round Robin) / SP (Strict Priority) and TD (Tail Drop) / WRED (Weighted Random Early Detection) to prevent congestion. Support flexible queue scheduling mechanism to do the shaping for queue or port traffic.
Ingress and egress policer provide intelligent bandwidth monitoring, which support to adjust the granularity according to the port speed. Both srTCM (Single Rate Three Color Marker) and trTCM (Two Rate Three Color Marker) can be supported.
Triple-play Service Support with Bandwidth Guaranty for High Quality Application
S7606X-2Z offers high bandwidth for Triple-Play services such as IPTV, video monitoring. The built-in QoS capabilities and flexible queuing technologies guarantee high quality of services.
Rich multicast protocol set (IGMP Snooping, IGMP v1/v2, PIM-SM) support up to 2K multicast groups and 4K logical replications per group. With FOS software, IPTV service and multicast latency control are fully supported.
Comprehensive Network Security Policy
S7606X-2Z supports subscriber-class / switch-class / network-class security control.
IPv4 / IPv6 / MAC ACL can filter IPv4 / IPv6 / Non-IP packet respectively. Besides that, extended IPv4/IPv6 ACL which can match Layer2 / layer3 / layer4 information in one rule is available. The ACLs can apply to physical ports / vlan / port group / vlan group. The members of port group or vlan group share a set of ACLs and save the TCAM resource.
ARP Inspection and IP Source Guard features prevent network from malicious ARP attack. Support CPU Traffic Protection, Storm control and CPU load optimization features. Support centralized 802.1x authentication feature to forbidden illegal user accessing network.
Convenient Management features
Support varied management interfaces, include console port / in-band network ports / out-of-band network port. Support SNMP v1/v2/v3, Support CLI (Command Line Interface), web management, Telnet and FTP connection. Support OAM to make management more convenient, and support SSH2.0, SSL, etc. to ensure security of management